The Loaded Compact Caddy
available for orders between $35 - $1000 Learn more
Material

Bamboo and felt

HOLDS

Oil, balm, wax or butter, and guitar pick
The Loaded Compact Caddy features our handmade, solid Bamboo Compact Caddy (redesigned with new, non-slip pads to keep your caddy off a wet sink and to prevent slipping) and all of the products that it holds, including:
Choice of 1oz Beard Oil
Choice of 2oz Beard Balm, 3oz Beard Butter or 2oz Beard Wax

Guitar Pick and Instructional Card
Dimensions: 5.25"x3.75"x1.75"
Oil- Apricot kernel oil, argan oil, jojoba oil, pure vitamin E oil, essential oils for scent, rosemary oil, eucalyptus oil, and tea tree oil.
Balm- Shea butter, cocoa butter, beeswax, coconut oil, and essential oils for scent.
Wax- Shea butter, cocoa butter, beeswax, coconut oil, lanolin, and essential oils for scent. 
Butter- Shea Butter, Kokum Butter, Mango Butter, Coconut Oil, Cocoa Butter, Jojoba Oil, Argan oil, Vitamin E Oil, Essential Oils for Scent
Customer Reviews
Write a Review
Ask a Question
#SOLID
I picked up the loaded compact caddy to compliment the loaded full-size caddy I also picked up. This is my first experience with BABC and it has been flawless. Shipping to My location in Canada went smoothly even considering our current pandemic climate in the world today. I picked up The Outlaw and The Royal Knight scent profiles in oils and balms. BUT back to the caddy!!! Beautiful and well built design with attention to detail. A definite welcome addition to my beard product collection. This product will have decades worth of use I am sure with its bamboo construction that feels like it would nearly be bullet proof. All I have to say is a sincere THANK YOU to BABC for providing such a solid product!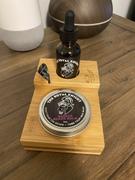 This looks great and helps
This looks great and helps me organize my stuff so my girl will stop complaining definitely plan on getting a couple more to keep all my stuff looking neat
The Compact Super Star!
This is the perfect caddy if your daily routine isn't quite so...complex and demanding OR your bathroom doesn't necessarily have the space to accommodate the full-size one! It's extremely well constructed but be warned if you think you can use it with balms from other brands. The opening for the balm is designed specifically for these guys so only their balm tins will fit. Still, only fair right!? But very very satisfied with this product, and certainly helps organize your sink top!
Badass Beard Caddy
Outstanding, can't say enough about the products. I have several of these caddies, they work great for keeping your oils and balms neatly organized!!!!
**** Yeah
This is good stuff. The caddy is very nice, solid, with a liner where the balm goes. Very cool. Also, I got the brewmaster scent and I love it. The citrus is amazing.