Sale price
$79.99
Regular price
$107.99
Unit price
per
Sale
Sold out
The Complete Beard Care Kit includes the five essential items you need to promote healthy skin and a fuller, thicker beard.
This Kit includes:
- Beard Oil
- Beard Balm
- Beard Butter
- Hog Wash
- Beard Conditioner

View full details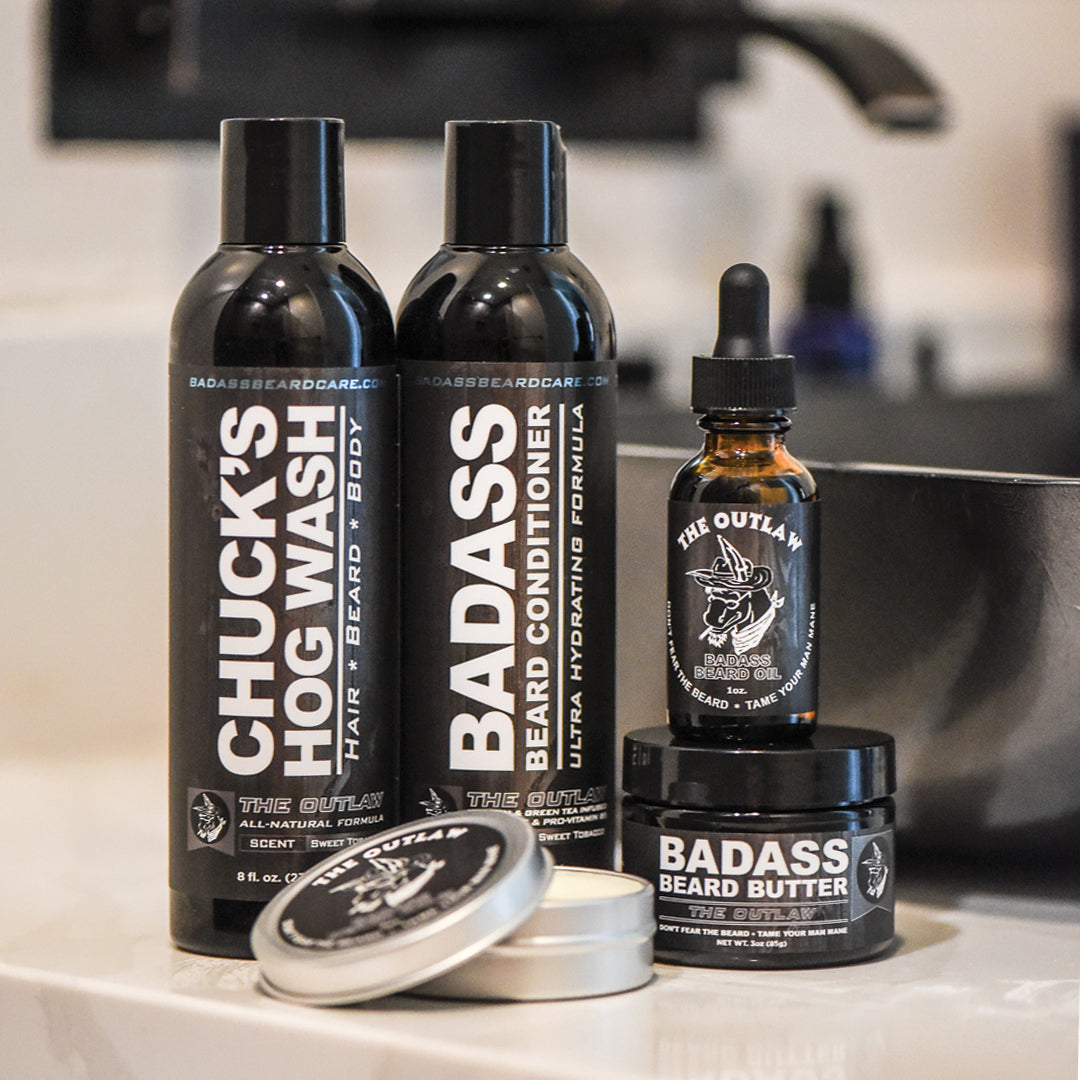 Introducing the Complete Beard Care Kit, the ultimate solution for men who want to maintain a healthy and well-groomed beard. This comprehensive kit includes everything you need to keep your beard looking its best, no matter what your style is.
Inside the kit, you'll find a range of high-quality products designed to address all aspects of beard care. It includes beard oil to nourish and hydrate your skin and facial hair, beard balm to provide styling and control, beard butter to deeply condition and repair, hogwash to cleanse and refresh, and a beard conditioner to strengthen and moisturize.
Whether you're a seasoned beard pro or just starting out, the Complete Beard Care Kit is the perfect solution for keeping your beard healthy, stylish, and well-groomed.
Scent List:
The Pharaoh - Caramel, Amber and Musk 
The Surfer - Mango and Beachwood
The Original - Sandalwood, Bourbon and Vanilla
The Ladies Man - Lemon and Vanilla
The Viking - Siberian Fir and Orange with a hint of Clove
The Biker - Patchouli, Sandalwood and Peppermint
The Mountain Man - Pine and Cedar
The Patriot - Leather, Cedarwood and Black Pepper

The Pirate - Lime, Bay Leaf, Orange and Black Pepper 
The Bushwhacker - Eucalyptus, Lemongrass, Grapefruit and Citronella
The Outlaw - Sweet Tobacco, Black Pepper, and Vanilla
El Burrista - Coffee (Made with Black Riffle Coffee - JB roast)
The Royal Knight - Earl Grey Tea, Lavender and Vanilla
The Secret Agent- Unscented
The Brewmaster - Citrus IPA 
Oil - Apricot kernel oil, argan oil, jojoba oil, pure vitamin E oil, essential oils for scent, rosemary oil, eucalyptus oil, and tea tree oil.
Balm - Shea butter, cocoa butter, beeswax, coconut oil, and essential oils for scent.
Butter - Shea Butter, Kokum Butter, Mango Butter, Coconut Oil, Cocoa Butter, Jojoba Oil, Argan oil, Vitamin E Oil, Essential Oils for Scent.
Hog Wash - Water, decyl glucoside, lauryl betaine, xanthum gum, aloe vera, ylang ylang oil, tea tree oil, eucalyptus oil, rosemary oil, citric acid, benzoic acid, and dehydroacetic acid, and essential oils for scent.
Conditioner - Herbal Infusion, Aloe Leaf, Cetearyl Alcohol, Algae Extract, Green Tea Leaf Extract, Pro-Vitamin B5, Behentrimonium Chloride, Argan Oil, Coconut Oil, Cilantro Extract, Wild Geranium Extract, Horsetail Extract, Shatavari Extract, Ginger Extract, Jojoba Oil, Sesame Seed Oil, Avocado Oil, Olive Oil, Evening Primrose Oil, Linseed Oil, Shea Butter, Starflower Oil, Polysorbate-60 Capryl Hydroxamic Acid, Amodimethicone, Caprylyl Glycol, Kosher Vegetable Glycerin, Coco-Caprylate/Caprate, Palm Oil Guar Hydroxypropyltrimonium Chloride, Sodium Benzoate, Potassium Sorbate, Colloidal Oatmeal, Silk Protein Amino Acid Blend, Citric Acid, Fragrance, Tea Tree Oil, Eucalyptus Oil, Rosemary Oil