Sale price
$4.99
Regular price
Unit price
per
Sale
Sold out
Patchouli, sandalwood, a kick of peppermint

SCENT STRENGTH

Medium
View full details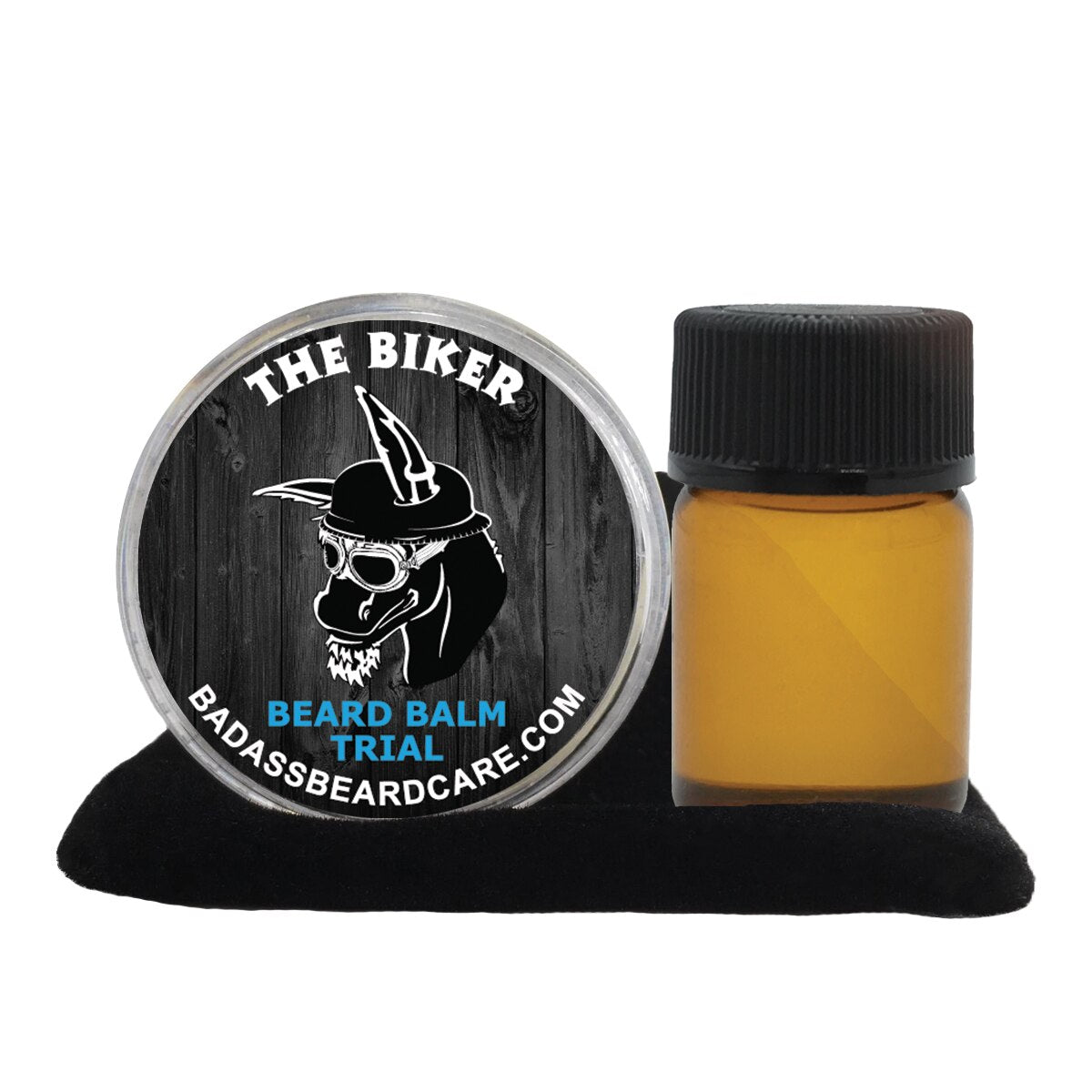 Trial Pack consists of approximately 1/8 ounce of The Biker  Badass Beard Balm and 1/2 dram (about a weeks worth) of The Biker Badass Beard Oil.
Being avid riders ourselves, we know what its like to spend the day with your beard whipping in the  wind behind you, collecting critters as you go. Your skin and hair feels dry, your beard looks like it got in a fight with a lawnmower. Well no  more! The Bad Ass Biker Balm is specially formulated for the most  magnificent face jacket a biker could hope for. We use only the best,  most natural feeling and easily absorbed base oils and add carefully  blended premium essential oils that are designed not only to reverse the damage caused by the elements while on the open road to your hair and skin, but to give your beard or mustache an unparalleled look and feel  while improving growth. Your face jacket will look fuller, feel softer,  and be more manageable with a subtle scent that is masculine, yet  refreshing.
Hand crafted with all natural and 100% organic food-grade ingredients.  All of our oils and balms are easy to work with and will leave your beard and  mustache full, soft, and healthy. Our unique blend is specially  formulated for your beard and the skin underneath to reduce itchy and flaky skin, promote thicker and faster hair growth, tame flyaway hairs, and repair split ends. Our oils and balms will  leave your beard looking and feeling healthier and manlier. Men will  want it and women will want you.
Oil- Apricot kernel oil, argan oil, jojoba oil, pure vitamin E oil, peppermint oil, patchouli oil, sandalwood oil, rosemary oil, eucalyptus oil, and tea tree oil.
Balm- Shea butter, cocoa butter, beeswax, coconut oil, peppermint oil, patchouli oil, and sandalwood oil