Badass Beard Wax - The Viking
available for orders between $35 - $1000 Learn more
Scent Profile:

Siberian Fir, Orange & Clove
Use to deep condition, style, protect, and add a fuller appearance
The Viking Badass Beard Wax has been treasured by the keepers of Valhalla for centuries and given as a gift to only the most deserving of the bearded warriors to grace those halls. Well no more! We won the rights to this glorious scent from Odin himself in a game of high stakes poker. What could we have wagered for such high stakes? Every single one of our red beard hairs, thats what. We love our customers that much! This unique refreshing blend is clean and outdoorsy, with an uplifting undertone of citrus and spice. It's a scent fit for a warrior and a lover!
Our 2oz Badass Beard Wax comes in 13 scents and is the perfect balance between a beard balm and a mustache wax! It is harder than the beard balm, but melts on skin contact quickly and applies easily. Badass Beard Wax will soften and tame just like the balm, but gives your beard some added weight and styling capabilities for beards that need a little extra hold. The wax will also leave your beard looking and feeling more dense!
Key differences between balm and wax:
Balm- soft consistency, light natural hold, beard looks natural, healthy, and well kept. Applies effortlessly to hair and skin and absorbs quickly so you don't notice anything in your beard. Best for daily use for a healthy beard.
Wax- medium to hard consistency, thicker feel, medium natural hold, beard looks styled. Lanolin has been added to the formula to offset the higher wax content and still provide deep conditioning properties. Harder to apply all the way to the skin and absorbs slowly. Best for styling before going out for the night, or for a deep conditioning after a long day in the elements.
Both the balm and wax can be used at the same time, just use the balm first to strengthen the hair and condition the skin. Then apply the wax for a well groomed, styled look.
All natural ingredients - Shea butter, cocoa butter, beeswax, lanolin, coconut oil, Apricot kernel oil, argan oil, jojoba oil, pure vitamin E oil, Orange Oil, Fir Needle Oil, Tangerine Oil, Clove Oil, Tea Tree oil, Eucalyptus Oil, and Rosemary Oil.
Customer Reviews
Write a Review
Ask a Question
JC
11/18/2020
Joseph C.
United States
Long Time Customer
Love the product, tried others and simply don't like them as much. The Viking scent is the best and nothing else from anyone comes close. Going to try one of the other newer products soon.
11/11/2020
Peter F.
United States
Great hold
I bought this beard wax to help tame some of the more stubborn hairs on my beard that just don't cooperate. This wax keeps them in place and has a pleasant smell to boot. I apply it over a little beard oil and balm and it works like magic.
Awesome products
They are the best for a reason they always send out the right orders and you can always count on them being on time. Customer service is badass as well and they are there to make sure your happy with your order. Not only am I a loyal customer but so are a bunch of my buddies . Thanks guys!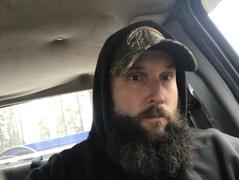 Oil balm and wax
Love these products, I recommend and always order from badass beard!!