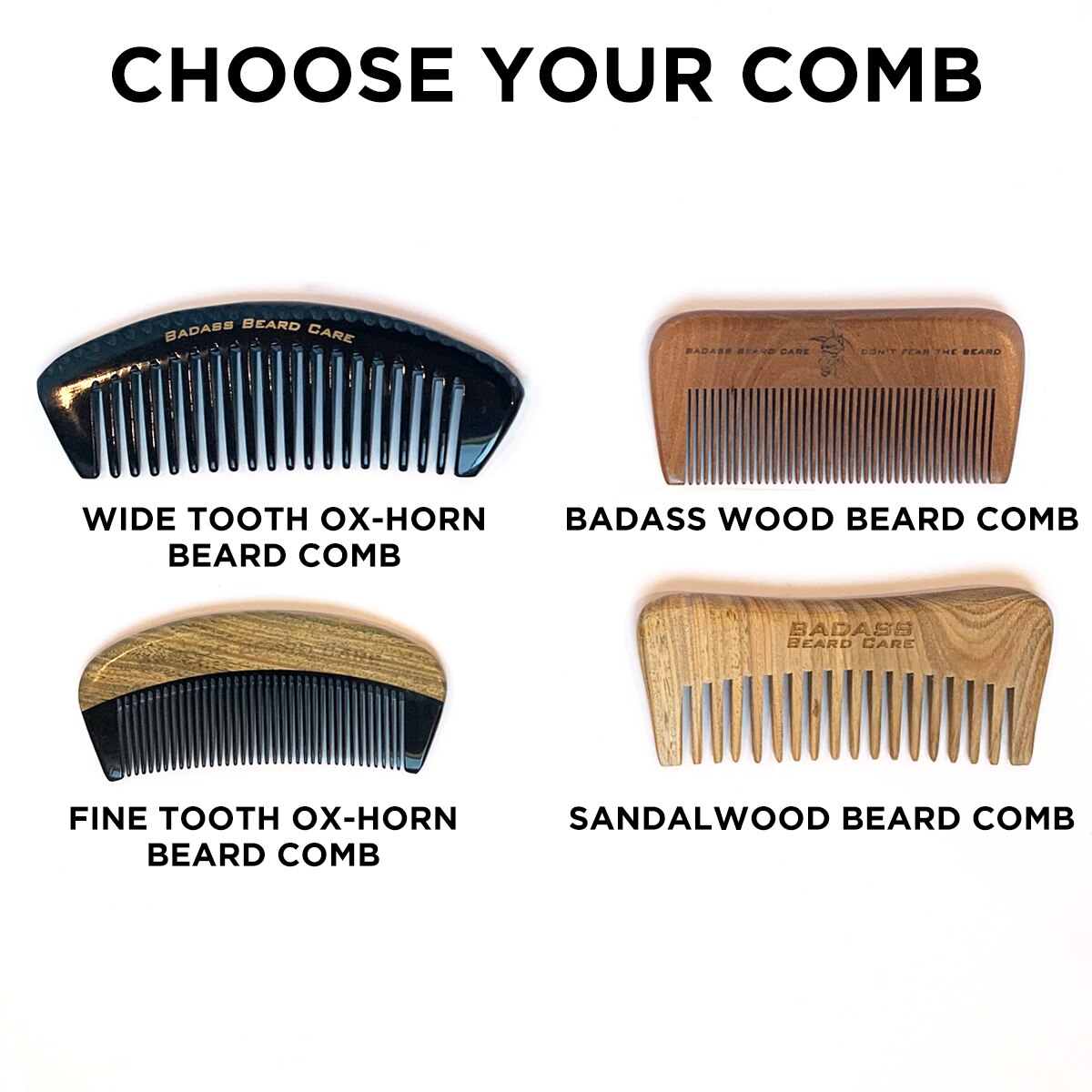 Keep your beard and mustache looking its best with our Basic Beard Grooming Kit! This kit is great for the beard owner who just needs the basics and wants to try a few of the different scents we offer. This kit includes:
- 4 Trial Packs, which each contain a trial size of balm and oil. There are 12 amazing Trial Packs to choose from
- Badass Comb
- (Optional) Beard & Mustache Trimming Scissors (Titanium or Gold)
We also include an instructional card and guitar pick to use as a balm scoop!
Scent List:
The Pharaoh - Caramel, Amber and Musk
The Surfer - Mango and Beachwood
The Original - Sandalwood, Bourbon and Vanilla
The Ladies Man - Lemon and Vanilla
The Viking - Siberian Fir and Orange with a hint of Clove
The Biker - Patchouli, Sandalwood and Peppermint
The Mountain Man - Pine and Cedar
The Patriot - Leather, Cedarwood and Black Pepper 
The Pirate - Lime, Bay Leaf, Orange and Black Pepper 
The Bushwhacker - Eucalyptus, Lemongrass, Grapefruit and Citronella
The Outlaw - Sweet Tobacco, Black Pepper, and Vanilla
El Burrista - Coffee (Made with Black Riffle Coffee - JB roast)
The Royal Knight - Earl Grey Tea, Lavender and Vanilla 
The Brewmaster - Tangerine, Grapefruit, Orange, and Siberian Fir, to recreate your favorite citrus notes of craft beer (Seasonal: March 1 - May 31)
The Soda Jerk - Root Beer (Seasonal: June 1 - Aug 31)
The Pilgrim - Sweet Mulled Cider (Seasonal: Aug 30 - Oct 31)
The Holiday - Orange, Chocolate, Peppermint (Seasonal: Dec 1 - Feb 28)
The Secret Agent- Unscented
Oil - Apricot kernel oil, argan oil, jojoba oil, pure vitamin E oil, essential oils for scent, rosemary oil, eucalyptus oil, and tea tree oil.
Balm - Shea butter, cocoa butter, beeswax, coconut oil, and essential oils for scent.