Any job worth doing requires the proper tools for the task at hand. No man walks into the jungle with a plastic machete. That's why our beard tools are crafted from quality ox horn, hardwoods, bamboo and boar's hair. You may be wondering which of our brushes and combs will serve your own beard's interests best, and if you need both a brush and comb. Luckily, Badass Beard Care offers high quality beard brushes and combs designed for all beard lengths and types.
Beard brushes and combs are multifunctional and each serves unique purposes. In order to maintain healthy growth of a thicker fuller Badass Beard you will want to select both a comb and brush that suits you well.
Let's dive in and find out exactly which beard tools are perfect for you.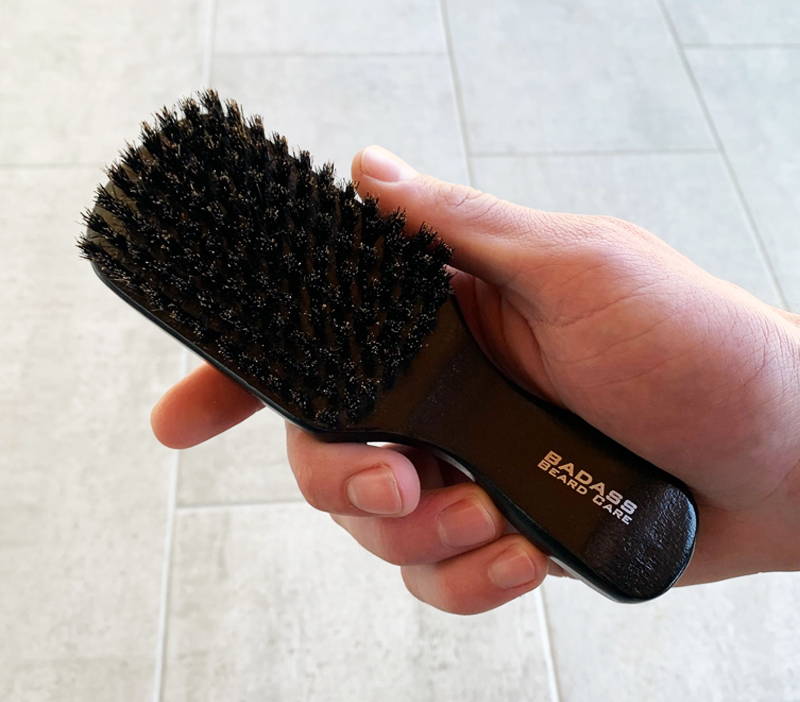 The Boar's Hair Beard Brush is the most effective tool for taming your man mane. Made from 100% boar's hair, our brushes won't feel stiff against skin like some other brands that use fully or partially synthetic fibers. Its bristles are designed to be gentle on the skin while cleaning and polishing the hair, and they are completely static-free. The boar's hair will exfoliate your skin and remove dandruff, giving you a cure for the itch! At the same time it stimulates blood flow near the skin's surface to promote healthy hair growth.
Let's say you find yourself in front of the mirror, doing some morning preparation, applying luxurious amounts of Royal Knight Oil & Balm to your beard. It's time to reach for the Boar's Hair Beard Brush to distribute and apply the product evenly throughout your beard while also removing the excess product so your face is left feeling clean and fresh. Using the beard brush along with your oils, balms and waxes will maximize their benefits of badassery.
Wield the mighty Boar's Hair Beard Brush and all of its beard maintenance power shall be yours!
Guys with this beard length will find the Boar's Hair Beard Brush most suitable for their needs. Its 100% boar's hair is softer and shorter than the others so it can exfoliate gently.
Greater length will need the deeper reach of our Black Series brushes and Wood Bristle Beard Brush which get the job done with longer and firmer bristles. Whether you prefer a palm-hold or handle grip we've got you covered!
Big beards should opt for the Wood Bristle Beard Brush for its generous and wide layout of long bamboo bristles. This bad boy is able to work its way through the biggest and burliest of Badass Beards! Perfect for wet or dry hair.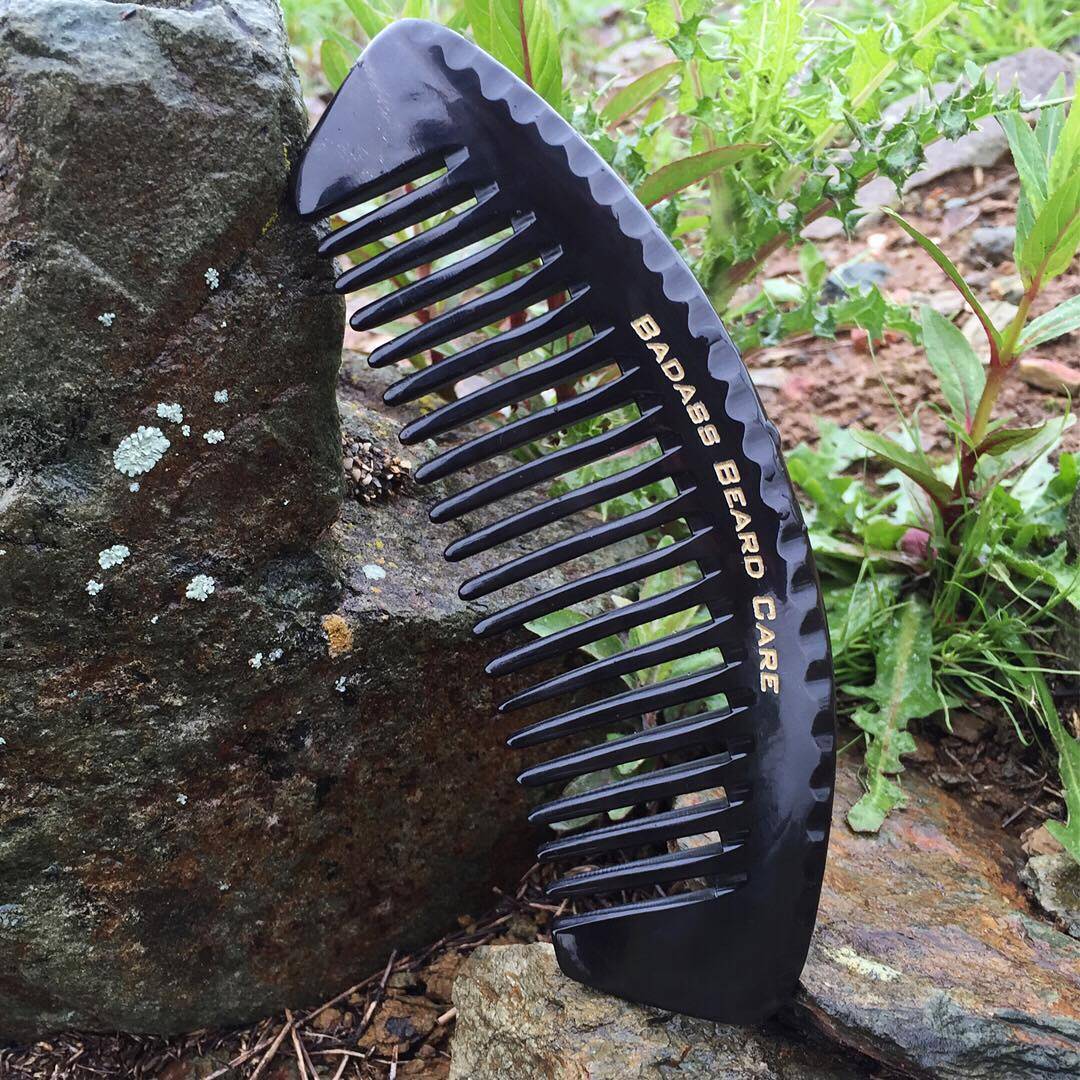 Our Badass beard combs are hand carved from sandalwood, walnut hardwood and ox horn. They are carved from one solid piece of material and sanded silky smooth so there are no seams or burrs which allows the comb to pass through hair without snagging. All of our combs are made from static-free materials, engraved with Badass branding and come in a custom-fit case. Hand carving our combs means each one is completely unique and truly Badass!
The function of a beard comb is to detangle, style and shape. Applying beard oil prior to using the comb will soften and relax your beard so you can easily detangle knots without pulling or breaking hairs. From there you can pair the beard oil with a balm or wax to lock in the oil and use the comb for a cohesive and finished look. Depending on your hair type you will want to select between a fine or wide tooth comb. In the shop we offer ox horn and wood combs available in wide tooth or fine tooth designs.
You will find a few of the combs have unique properties. For example, the Sandalwood wide tooth comb's deep colors and beautiful wood grain become more pronounced over time as it absorbs the natural oils of our beard products. This comb becomes more badass as your beard grows, brother!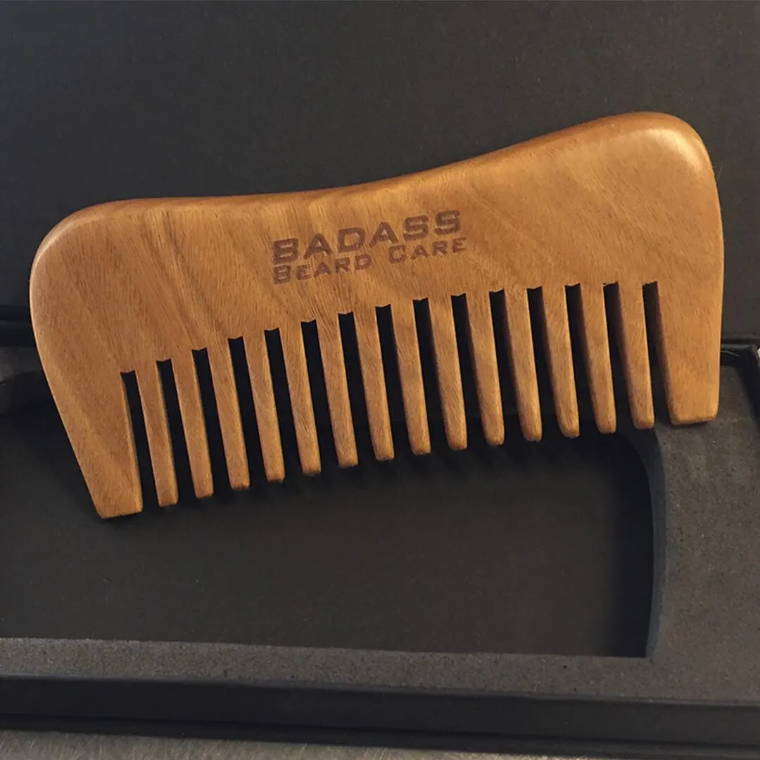 Mosey on over to the Badass shop to pick out your favorite beard brush and comb today! Once you get your hands on these premium beard tools they will become an essential part of your morning routine. Plus, you've got nothing to lose with our Lifetime Warranty and 100% Money Back Guarantee on every single item we sell. We only sell the highest quality products and we stand behind that quality. If your beard accessories break or if you're not completely satisfied, we will make it right!