Beards have been around since the dawn of mankind. In this day and age there are new beard products popping up everyday. Our current Badass ensemble includes washes, oils, balms and waxes- and now is the time for a new addition!
Badass Beard Care has been conducting highly confidential research and development to discover the perfect formulation for a Badass Beard Butter. After many months of taxing trials and forbidden experimentation, the ultimate recipe has emerged.
The final product is a premium butter that is not for your biscuits, but rather for maintaining a luxuriously soft and impeccably well groomed beard. (Yes, we're laying it on as thick as the new Badass Butter.)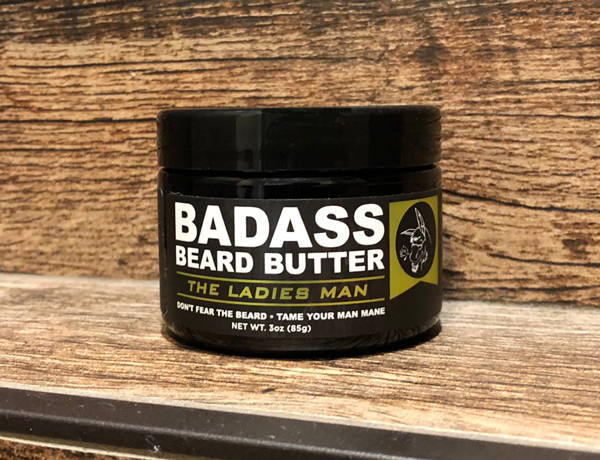 Badass Beard Butter contains a high-quality blend of all-natural butters and oils and is completely wax free. We have combined the moisturizing properties of kokum, mango, shea and cocoa butter with detangling argan and jojoba oils to transform and condition even the most parched and wiry beards. The result is a consistency that is thick and extremely hydrating.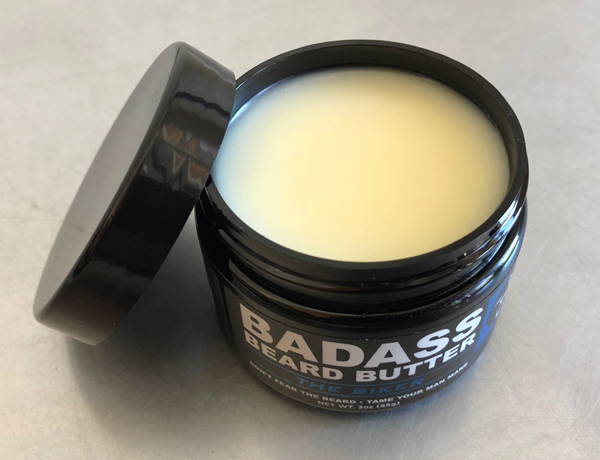 It's meant to be used as a deep conditioner and is remarkably easy to apply. A dollop of this rich butter leaves beards with a healthy feel and shine.
The Beard Butter can be used jointly with Beard Wax to effectively moisturize your beard and apply an all day hold for shaping. If you want to wake up to a more easily manageable beard you can even apply the Badass Beard Butter before bed.
Take a look at the premium ingredients we've sourced and blended for the Badass Beard Butter. 
Badass Ingredients
Shea Butter: Melts at body temperature and absorbs rapidly, it is a "refatting agent" widely used as a moisturizer. Extracted from nuts of African shea tree.
Kokum Butter: Melts readily on the skin like shea butter, praised for being non-greasy and gentle on sensitive skin. Extracted from Wild Mangosteen.
Mango Butter: Loaded with vitamins and essential fatty acids, light and non-greasy with long-lasting moisture. Works well on all skin types and has a subtly sweet aroma. Pressed from dense woody kernels of the mango.
Cocoa Butter: High in fatty acids and contains phytochemicals that may improve blood flow. Creates a protective barrier to lock in moisture and improve elasticity.
Coconut Oil: Improves shine and protects hair from damage. High in essential fatty acids.
Jojoba Oil: Acts as a humectant, which means it retains and preserves moisture. Naturally antimicrobial and antifungal. Actually used to lubricate and maintain machine guns in World War 2. Badass!
Argan Oil: Contains essential nutrients, antioxidants and anti-inflammatory properties. Naturally moisturizes skin and hair. Extracted from kernels of the argan tree's fruit, endemic to Morocco.
Vitamin E Oil: Boosts hair elasticity and shine, prevents breakage and split ends. A natural antioxidant that fights free radicals.
How To Get It
The Badass Beard Butter will be available in all thirteen Badass scents. It comes in a generous three ounce jar for only $24.99. Club members will be able to purchase the butter at a discounted rate through the Badass Beard Club site. 
Are you interested in joining the Badass Beard Club? Click here to find out how you can get the Beard Club member discount on all of our exceptional products, including the new Badass Beard Butter.