Introducing The Badass Beard Club
Our subscription based membership that has it's own website!
Please sign up at BadassBeardClub.com
The Badass Beard Club is a subscription based membership available on its own website at badassbeardclub.com that allows you to get your favorite Badass Beard Care products, billed and shipped automatically! Unlike other subscription based memberships, our membership allows you to choose how often you want the products shipped - anywhere from every week to every 6 months. You can also skip shipments or cancel at any time! We have 5 "Tiers", but additional products can be added to any Tier for a truly customizable subscription. Once you become a member, you will be able to get 10% off beard care products, 20% off accessories like combs and brushes, and 30% off of our Badass apparel! You must purchase a membership tier and check out before you will be able to access any other products. You can place a second order immediately after and when we ship your order. we will combine the shipments and refund one of the shipping charges. Included with your first shipment is also a solid metal, laser engraved membership card.
Watch video for in depth explanation benefits and a tutorial on how to sign up!
---
---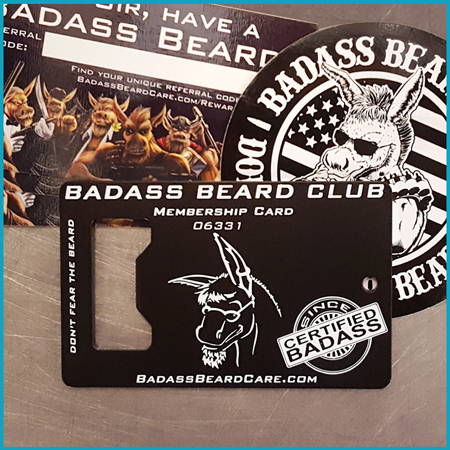 MORE THAN JUST A
PRODUCT SUBSCRIPTION!
• Fully Customizable Subscription Packages
• Free Swag and Samples of New Scents
• Exclusive Membership Discounts
• Access to our Members Only Facebook Page
• No Hidden Fees
---
---
EXCLUSIVE DISCOUNTS WITH YOUR FAVORITE COMPANIES