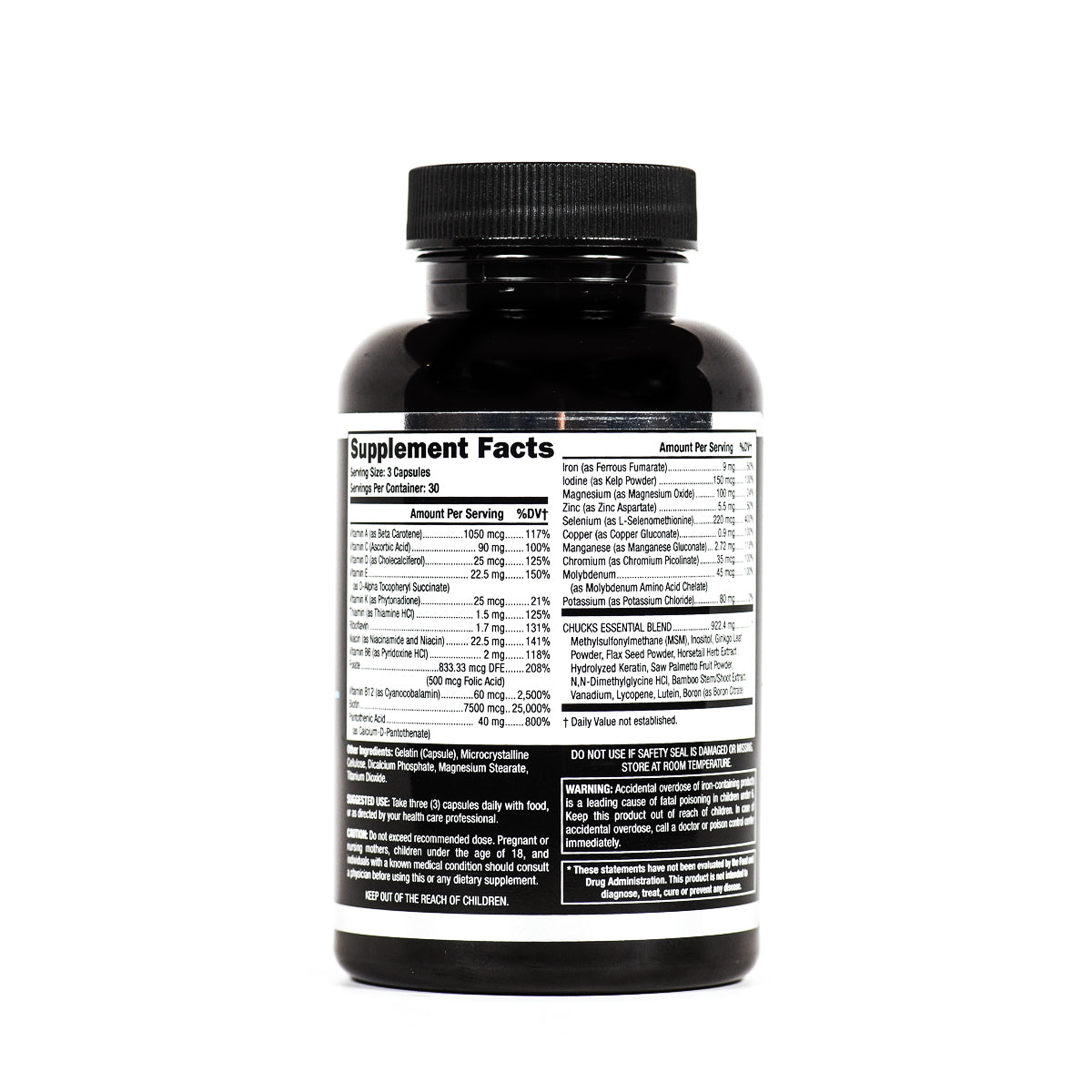 Reach your beard growth potential with our Badass Growth Kit!  Get our 8oz all natural Chucks Hog Wash or Beard Wash, a 1oz Beard Oil, and a Chuck's Essentials Multivitamin, and a choice of a 2oz Beard Balm, 2oz Beard Wax, or 3oz Beard Butter. 
What are the key differences between our Beard Balm and Wax you ask?
Beard Balm - soft consistency, light natural hold, beard looks natural, healthy, and well kept. Applies effortlessly to hair and skin and absorbs quickly so you don't notice anything in your beard. Best for daily use for a healthy beard.
Beard Wax - medium to hard consistency, thicker feel, medium natural hold, beard looks styled. Lanolin has been added to the formula to offset the higher wax content and still provide deep conditioning properties. Harder to apply all the way to the skin and absorbs slowly. Best for styling before going out for the night, or for a deep conditioning after a long day in the elements.

Key differences between our two types of washes:
Badass Beard Wash - deep cleaning formula infused with tea tree, eucalyptus, aloe vera, and rosemary and is scented with peppermint for a refreshing experience. We recommend using Badass Beard Wash every 3-4 days and using Hog Wash as a daily wash.
Chuck's Hog Wash - all natural daily wash for your beard, body, and hair. It is gentle enough for all skin types and will leave your skin and hair soft and healthy. It is available in all of our regular oil and balm scents.
Scent List:
The Pharaoh - Caramel, Amber and Musk 
The Surfer - Mango and Beachwood
The Original - Sandalwood, Bourbon and Vanilla
The Ladies Man - Lemon and Vanilla
The Viking - Siberian Fir and Orange with a hint of Clove
The Biker - Patchouli, Sandalwood and Peppermint
The Mountain Man - Pine and Cedar
The Patriot - Leather, Cedarwood and Black Pepper

The Pirate - Lime, Bay Leaf, Orange and Black Pepper 
The Bushwhacker - Eucalyptus, Lemongrass, Grapefruit and Citronella
The Outlaw - Sweet Tobacco, Black Pepper, and Vanilla
El Burrista - Coffee (Made with Black Riffle Coffee - JB roast)
The Royal Knight - Earl Grey Tea, Lavender and Vanilla
The Brewmaster - Tangerine, Grapefruit, Orange, and Siberian Fir, to recreate your favorite citrus notes of craft beer (Seasonal: March 1 - May 31)
The Soda Jerk - Root Beer (Seasonal: June 1 - Aug 31)
The Pilgrim - Sweet Mulled Cider (Seasonal: Aug 30 - Oct 31)
The Holiday - Orange, Chocolate, Peppermint (Seasonal: Dec 1 - Feb 28)
The Secret Agent- Unscented
Oil - Apricot kernel oil, argan oil, jojoba oil, pure vitamin E oil, essential oils for scent, rosemary oil, eucalyptus oil, and tea tree oil.
Balm - Shea butter, cocoa butter, beeswax, coconut oil, and essential oils for scent.
Wax - Shea butter, cocoa butter, beeswax, coconut oil, lanolin, and essential oils for scent.
Beard Wash - Water, ammonium lauryl, sulfate, ammonium laureth sulfate, lauramide DEA, lauryl glucoside, ammonium xylene sulfonate, citric acid, propylene glycol, diazolidinyl urea, methylparaben, propylparaben, sodium chloride, aloe vera, aragan oil, avacado oil, coconut oil, tea tree oil, eucalyptus oil, rosemary oil, peppermint oil, and EDTA
Hog Wash - Water, decyl glucoside, lauryl betaine, xanthum gum, aloe vera, ylang ylang oil, tea tree oil, eucalyptus oil, rosemary oil, citric acid, benzoic acid, and dehydroacetic acid, and essential oils for scent.
Chucks Essentials -Vitamin A, Vitamin C, Vitamin D, Vitamin E, Vitamin K, Thiamine, Riboflavin, Niacin, Vitamin B6, Folate, Vitamin B12, Biotin, Pantothenic Acid, Iron, Iodine, Magnesium, Zinc, Selenium, Copper, Manganese, Chromium, Molybdenum, Potassium, MSM, Inositol, Ginkgo, Leaf Powder, Saw Palmetto Fruit Powder, Hydrolyzed Keratin, Horsetail Herb Extract, Flax Seed Powder, N,N-Dimethylglycine HCL, Bamboo Stem or shoot extract, Vanadium, Lycopene, Lutein, amd Boron.