Skip to product information
HANDCRAFTED
IN THE U.S.
ALL NATURAL
INGREDIENTS
SATISFACTION
GUARANTEED
Sale price
$20.99
Regular price
$27.99
Unit price
per
Sale
Sold out
Serving size:

3 capsules

Quantity:

30 day supply
Healthy, thicker, stronger, faster growing
Healthy, flake free, reduced irritation and itch
View full details
One of the first questions we get asked is "how can I grow a better beard?". There are many things you can do to help grow a healthier, fuller, faster growing beard and fill in those thinner areas. Lowering your stress levels, getting better sleep, eating healthy, taking a comprehensive multi-vitamin, and working out are all great for hair growth and overall health. There are also supplements that you can take that can help promote healthy skin and beard hair growth, correct any vitamin or nutrient deficiencies that may be hindering hair growth, and make the hair stronger to prevent breaking which gives the appearance of a thinner beard. The vitamins and minerals most beneficial for healthy skin and hair are Biotin and B vitamins, vitamin E, vitamin C, vitamin D, folic acid, lycopene, horsetail extract, keratin, and bamboo stem (silica), along with several other vitamins that are not as common. Purchasing all of these different vitamins and minerals individually along with a normal multi-vitamin can be expensive, time consuming, and take up large amounts of space in your medicine cabinet. Supplement companies also try and give huge doses of the vitamins so they can charge more, but your body can only process so much at one time and you end up literally "pissing your money away".
We have come up with the perfect solution in Chucks Essentials Version 3.0! This comprehensive multivitamin gives you everything you need and nothing you don't. It's a balanced men's multi-vitamin loaded with the vitamins and minerals essential for healthy, thicker, stronger, and faster growing hair and healthy, flake free skin. Take 3 of these gel capsules daily for best results. Each bottle contains a 30-day supply.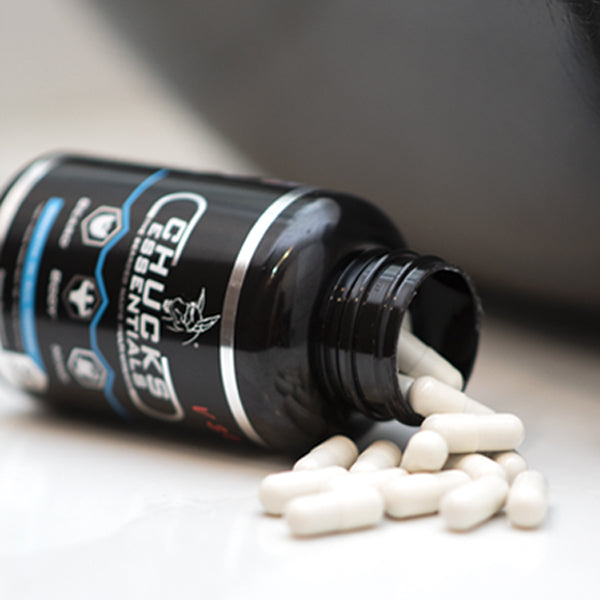 Vitamin A, Vitamin C, Vitamin D, Vitamin E, Vitamin K, Thiamine, Riboflavin, Niacin, Vitamin B6, Folate, Vitamin B12, Biotin, Pantothenic Acid, Iron, Iodine, Magnesium, Zinc, Selenium, Copper, Manganese, Chromium, Molybdenum, Potassium, MSM, Inositol, Ginkgo, Leaf Powder, Saw Palmetto Fruit Powder, Hydrolyzed Keratin, Horsetail Herb Extract, Flax Seed Powder, N,N-Dimethylglycine HCL, Bamboo Stem or shoot extract, Vanadium, Lycopene, Lutein, amd Boron.