The Patriot Badass Beard Oil
available for orders between $35 - $1000 Learn more
Scent Profile:

Leather, Texas Cedarwood and Black Pepper
Use to soften hair, hydrate skin to get rid of itch and dandruff, and promote healthy growth
Made by Veterans for people who bleed red, white, and blue and enjoy late night readings of the American Constitution with an ice cold American beer. This scent is made with Leather Essence, Texas Cedarwood Oil, Black pepper Oil and the sweat of hardworking American Bald Eagles so you know it smells like freedom! If you are a veteran, please contact us at sales@badassbeardcare.com for special pricing.

Hand crafted with all natural and 100% organic food-grade ingredients. All of our oils are easily absorbed and will leave your beard and mustache full, soft, and healthy. Our  unique blend is specially formulated for your beard and the skin  underneath to reduce itchy and flaky skin, promote thicker and faster  hair growth, tame flyaway hairs, repair split ends, and make your hair  softer to the touch. Our oils will leave your beard looking and feeling  healthier and manlier. Men will want it and women will want you.
Size: 1 oz.
All natural ingredients - Apricot kernel oil, argan oil, jojoba oil, pure vitamin E oil, cedarwood oil, patchouli oil, tea tree oil, eucalyptus oil, lemon oil and rosemary oil.
Customer Reviews
Write a Review
Ask a Question
11/25/2020
Trevor S.
United States
Love The New Scent
I loved the smell of the original patriot, but this is definitely an improvement. It's a stronger scent that lasts a lot longer than the original, but it still smells great. Definitely get the leather smell, as well as the cedar.
11/25/2020
Ryan G.
United States
Awesome!!
This company makes great products! I recommend them to all my friends. The patriot sent is probably my favorite.
11/18/2020
Jon C.
United States
The Patriot Oil
My overall experience using this item is great. As a note this review will be for the newer formulation (NOV 2020). I'll start out by saying that I loved the old Patriot. Probably number 2 for me would be Mountain Man and number 3 the Viking. As you can tell, I like the outdoor scents. The improved Patriot is different; it took me a bit to like it. After I used up my free trial I was sold on it. It has what Badass describes as a leather scent and I would agree. Kind of the old school English leather vibe. If you've been using the old Patriot, just order a trial of this and give it a chance. On the plus side, this stuff makes a great gun oil and will make make your firearms smell like a John Wayne movie.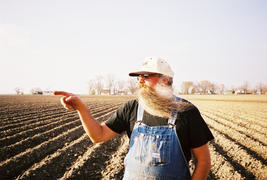 11/12/2020
Christopher F.
United States
Patriot
I love the scent. Y'all make some great product. Plus the fact that y'all are vets makes me extremely happy. Thank you for y'alls service n great products
11/11/2020
Michael K.
United States
Patriot beard oil
Amazing product, smells great!